Regular price
Sale price
48,00 EUR
Unit price
per
Sale
Sold out
One step at a time. Complete presence. What do I see? What do I hear?
What do I feel? With each breath, my heartbeat calms down. I see my path
clearly in front of me. I allow myself to be the priority now. My time
is now.

Handmade from: Fossilized Shells, Dendritic Jasper, Sandalwood
Natural Materials

Dendritic Jasper
---------------
Dendritic jasper is characterized by its special surface structure. It is considered the "stone of the spirit" - created by ancient - sea creatures to balance your energy. It supports you to carry your inner power to the outside and to live your natural self.

Petrified shells
---------------
The beads of petrified shells radiate a deep clarity. With every touch, you feel the calm of the ocean. The stone provides balance and cleanses old energies to find a new focus strengthened.

Rudraksha
---------------
Rudraksha are the seeds of a special tree that has been attributed with special powers in India for thousands of years. They are traditionally used by yogis to make their mala necklaces and are passed down from teacher to student. The beads have a very special surface texture and feel fascinating and invigorating in the hand.
Handmade in Our Studio

All our malas are made in our studio in Germany. This way you can be sure that your mala was created in a mindful process under fair working conditions and all beads were carefully selected by hand.
Details & Size

Stretch bracelet adjusts to fit wrist
Pendant : Brass, 18K gold plated
Beads Ø : 6mm

Sizes
Our sizes are based on the circumference of your wrist
The bracelets themselves are a tad larger for a comfortable fit
● In Stock - Ships within 2-3 business days
View full details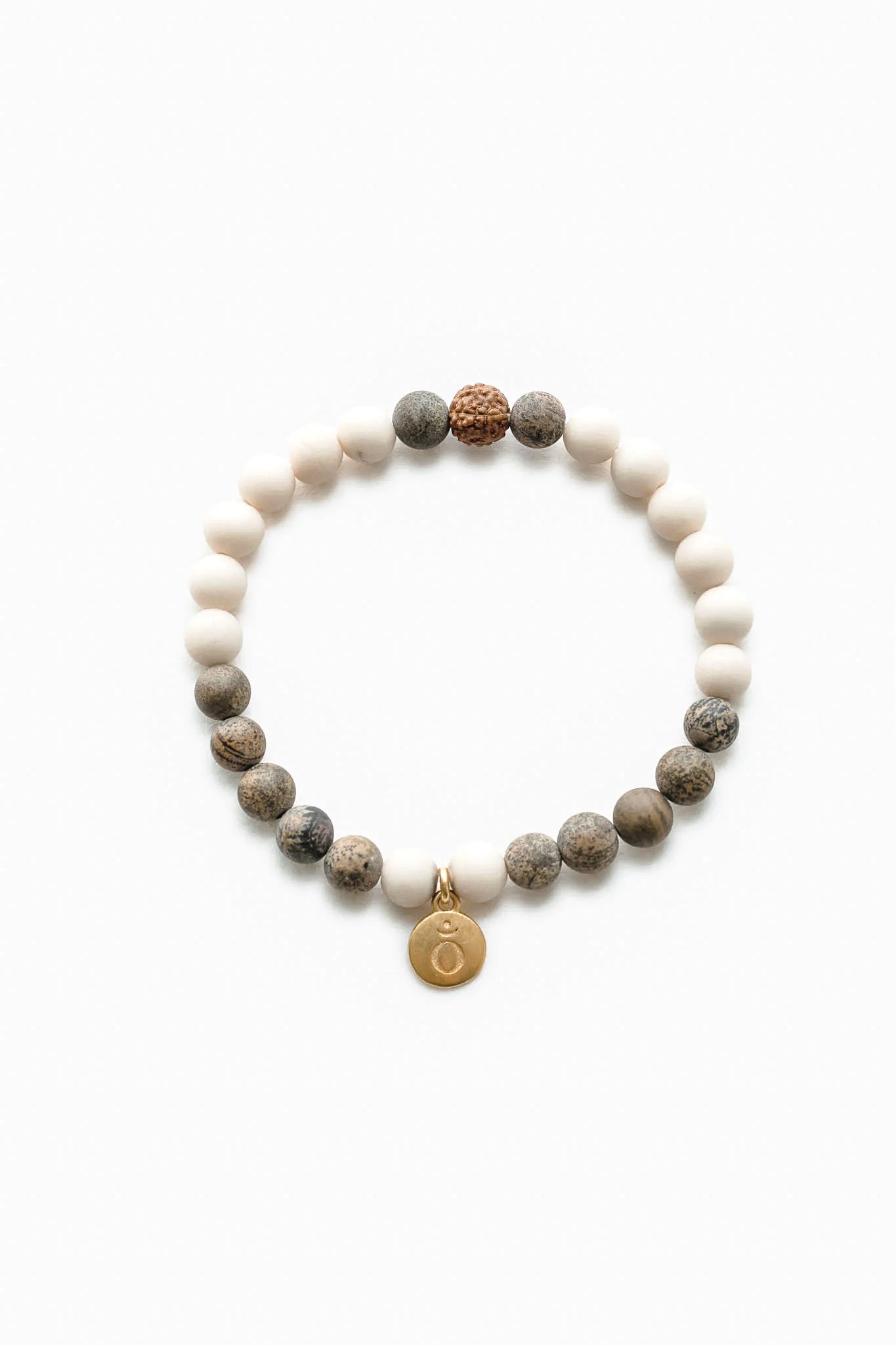 Handcrafted with Heart
Trust your intuition and listen to your inner voice. Now is the time to calmly orient yourself, take time for yourself, and reconnect with your essence. Embark on a journey to yourself and tune into what defines you as a person and what you want to manifest for your true self - you are enough.
Learn More